In February we hosted the AEO Forums. Hear from BDC Venue Services Coordinator and eventprof, Tia Thornhill on her experience of the event.
On Friday 11th February, I attended the AEO forums here at the BDC. This forums theme was based on Reset which couldn't be more appropriate as we welcome back events to our everyday lives.
The engaging Keynote delivered by the awesome Jez Rose focused on change and how even though we as people encounter change every day, we still do not have a thorough understanding on how to combat change and use it to our advantages rather than viewing it as a hindrance. How can we provide and maintain an environment that promotes change, because any change is progress and change of any kind "starts and begins with us".
Diversity and Inclusion is something that I am extremely passionate about so this opened my eyes to how as industry professionals, we should actively aim for having a diverse leadership as this consequently enables a more diverse employee base and therefore allows the company to hire the best people for the job. This panel also discussed the impact of D&I has on the retention of staff. A diverse environment not only encourages creative and innovative staff but it has proven to make the company 25%-30% more profitable and successful, so why more aren't companies taking D&I more seriously?
As an (almost) Event Graduate, I am sifting through hundreds of job specifications that ask for 2-3 years' experience for a supposedly 'Entry Level' role. How is this 'Entry Level'? I have first-hand experience on how limiting that is for me as a person trying to break out into the industry that I am passionate about but hearing from the panel, I see how this is also extremely limiting for companies hiring. It was inspiring to hear the panel discussed how putting a restriction on who can apply then restricts how much diversity you will receive in the initial applications. If the industry is saturated with a certain calibre of people already, then how has anyone else not in this bracket going to gain any sort of experience? Companies are constantly getting trapped in this cycle and therefore others are constantly fighting a loosing battle.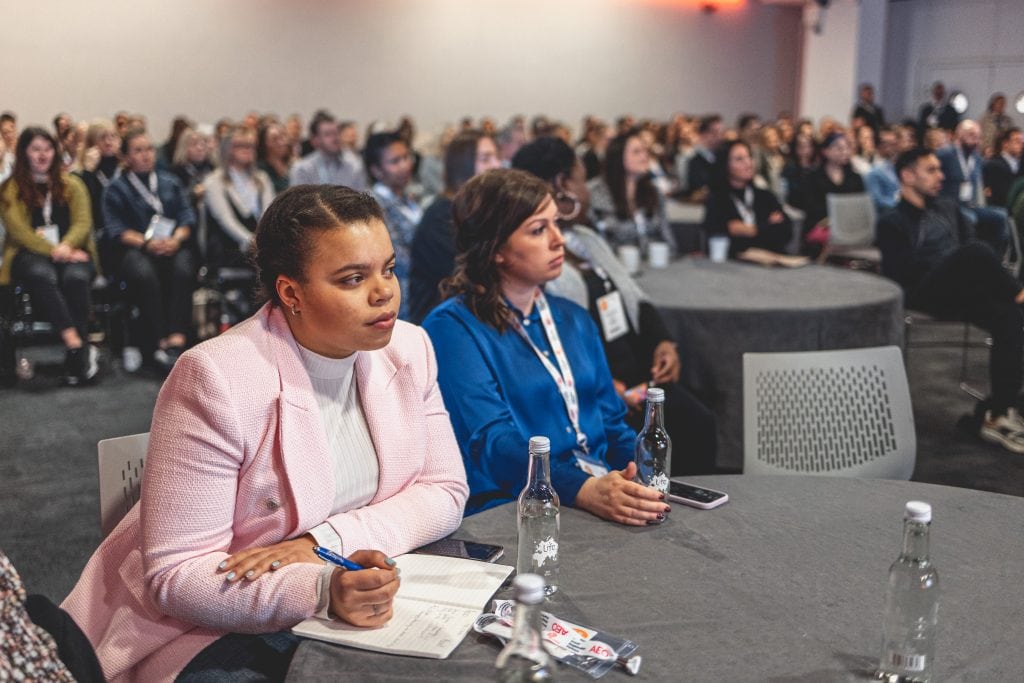 The operations stream allowed the opportunity to meet with new industry professionals to reflect and discuss where we are now and what we can learn as a consequence of the past 2 years. The inspiring panel comparing "one-stop-shop" exhibition companies with individual suppliers is a topic that was debated during some of my lectures at university so it was riveting to hear industry professionals debate the pro's and con's of their own sector. A discussion on how to become Smarter Stronger and Better by strategically planning different tasks at specific times was something that I had not thought too deeply about before, yet is something that I will definitely be taking into consideration for the future.
The case study on Aiming for Net Zero with Racoon Events, ecollective and NEC Group was inspirational in talking in a frank way about the true meaning of being sustainable and how companies aren't doing enough to fight the battle whilst also detailing how they are building a company that prides itself in sustainability.
Overall, the talks were fantastic, the panels were expertly chosen and the event was smooth running and memorable. Events for events professionals can be a daunting task to undertake but Sam did an amazing job.
A massive thank you to everyone involved as the copious notes that I have scribbled down will definitely be ideas that I take forward in my career. Getting back in a room discussing experiences and overcoming the challenges is something that I believe is essential when working in any industry and I feel lucky to be a part of an industry that prides itself in learning from each other.