This year, we have a delectable selection of exhibitions that we would hate for you to miss out on. So here is our smorgasbord of upcoming food and drink industry events that will keep you full for the whole year...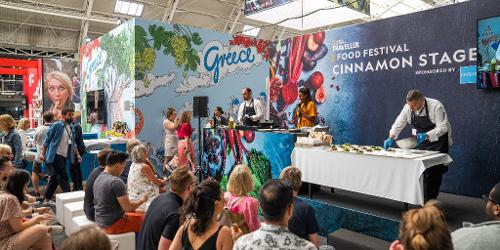 Here at the BDC, we are extremely excited for all the upcoming events hosted this year by us. But we must say the ones where you can get some tasty free samples are definitely some of our favourites.
This year, we have a delectable selection of exhibitions that we would hate for you to miss out on. So here is our smorgasbord of upcoming food and drink industry events that will keep you full for the whole year:
National Geographic Traveller Food Festival
Travel to culinary worlds unknown with the National Geographic Traveller Food Festival, celebrating a whole host of delicious cuisine from all across the globe. Your taste buds will be transported to faraway lands. With international cuisine from the Caribbean, Mexico, the Mediterranean, and more, along with some UK delicacies to savour too.
Meet world-renowned chefs, famous food writers, and TV personalities who will take you round the world one delectable mouthful at a time. From live cooking demos at the Main Stage to international wine tasting, discover how to cook exciting new dishes in the Masterclass Theater or hear from your favourite cookbook authors at Speaker's Corner. The two-day international food and drink event plays host to a mouthwatering mix of food, travel, and interactive experiences.
This year, the festival is from 15th – 16th July and is open to the public, with day tickets at £20.
Tickets include entry and access to the festival's full programme which you can buy here.
Bread & Jam Festival 2023
Not strictly a festival of food but more a meeting of great minds within the food and drink industry. The legendary Bread and Jam Festival is in its 8th year and is the place to be for anybody looking to get noticed and level up their food or drink brand and business.
Attended by over a thousand individuals within the industry, from leading experts to up-and-coming entrepreneurs. The festival is perfect for anyone looking to scale their business and get their name out there. Get invaluable feedback on your products at the tasting panels, apply to pitch to big-name brands, and rub shoulders with the best in the business. Whether you are a startup looking to take the industry by storm or an investor looking to find the next big thing make sure to book your ticket.
This two-day festival is from 18th to 19th July. Get your tickets here.
Caffè Culture Show 2023
Proving a runaway success last year and keeping all our BDC tenants considerably caffeinated, the Caffè Culture Show is back. An extensive B2B trade show showcasing all that the cafe and specialty coffee industry have to offer. Bringing together over 150 leading brands and 50 expert speakers from the world of hospitality.
The event is the perfect opportunity to discover all the latest products and services and find out emerging new trends. Featuring an extensive program that includes a brew bar and roasting zone of 16 of the UK's finest coffee makers. Sip on some award-winning coffee and see skilled baristas in action as they battle it out with two days of competitions.
Take part in the taste challenges and workshops and hear from leading industry experts, all among the aroma of freshly ground coffee beans. If you are in the coffee and hospitality industry and are looking to upskill, network, or grow your business, this event is one you really shouldn't miss.
Spanning over two days from 3rd to 4th October, register to attend here.
The Brewers Congress
Taking place on the 18th and the 19th October the Brewers Congress is the highlight of the brewery calendar and sets the stage for the best and the brightest in the industry. The event runs for two days, culminating in an awards show where the winners of the 2023 Brewers Choice Awards will be crowned.
Over 300 breweries will be in attendance, with 30 international speakers from across the industry. Unlimited beer tasting of more than 100 different beers from 50 different breweries makes sure that your thirst for the best artisanal beers on the market will definitely be quenched. Take a tour of the exhibition and hear from expert brewery professionals on what's happening in the space. Learn more about the industry and where it is heading all washed down with some of the best brewed lagers and ales.
You can buy your tickets here.
To find out more about the food and drink industry events we have coming up or any other of the amazing events we host at the BDC, head to our What's On page.