This month we are in conversation with Charlotte McCarthy from FUTURE Prop Tech, who hold their event (pictured) with us here at the BDC.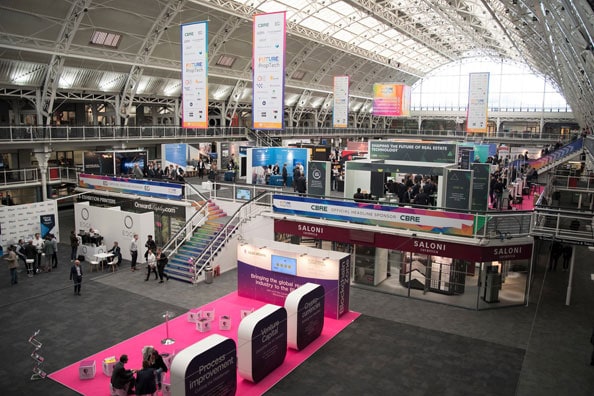 Our new series, In Conversation With…, gives us an opportunity to meet some of the community that call the BDC home to their business. With a diverse and eclectic mix of companies in the venue, across offices, showrooms and our co-working space, we are lucky to have some amazing and interesting people under our roof.
This month we are in conversation with Charlotte McCarthy from FUTURE Prop Tech, who hold their event (pictured) with us here at the BDC. Their fifth anniversary event is fast approaching in May this year with over 2,000 real estate & technology leaders coming together for much more than just your average two-day show.
Tell us a bit about your company and your role there…
I work at FUTURE PropTech with a small team of very talented people. We organise the world's largest and most cutting edge event based around the future of real estate. We introduce the real estate industry to the creators of tech solutions, which save time, energy and money. Real Estate is the largest industry in the world, and the industry as we know it, is rapidly evolving around us.
I look after the marketing operations and all partnerships. I manage over 70+ partnerships; support our 100+ speakers with thought leadership positioning and our 80+ exhibitors and sponsors with exposure! Lots of things to juggle, but I love my job. It allows me to be creative through marketing and I get to deal with a ton of people daily, which I adore.
How long have you been based here at the BDC?
I have been at the BDC for over a year now. I love working in this space, as we have a little cosy private space, but also have the flexibility to work in the co-working area as well, where I get to see familiar faces and catch up with people who are not on my direct team.
Why did your company choose the BDC as your home?
My company chose this location, due to it's incredible location, flexibility, price, and also because we host our events upstairs on the main floor, so where better than in the BDC?! We can show our clients around the building and arrange things with in house teams much faster being in this building.
What is the best part about being based at the BDC and in this area?
I really like Angel Central – it's great for lunch, and great for pressies! I do all of my birthday present shopping on my lunch breaks. I love MUJI, Tiger and Calzedonia! It's wonderful being in such a vibrant area with beautiful trees and buildings everywhere. The BDC is a great building and I always get smiles and high fives on the way in from the amazing security team, which really lifts my day! The girls who manage our co working space are now like my work sisters and I feel very much at home here!
What has 2019 got in store and what's next for your business?
We are going to welcome over 2000 delegates to our next event on May 14th and look forward to raising awareness in our sector, allowing people to make new connections and take more than business cards home with them on the day! We want to see massive collaboration and success stories from the back of our event! For anyone interested in FUTURE PropTech, please feel free to connect with me on LinkedIn!
Head to these sites if you would like to find out more about FUTURE PropTech or the community in BDC Works and if you would like to meet our team and feature In Conversation With… then get in touch with Katie.