This month we are in conversation with Lee Cheesmur, Architectural Sales Manager from Canal Engineering.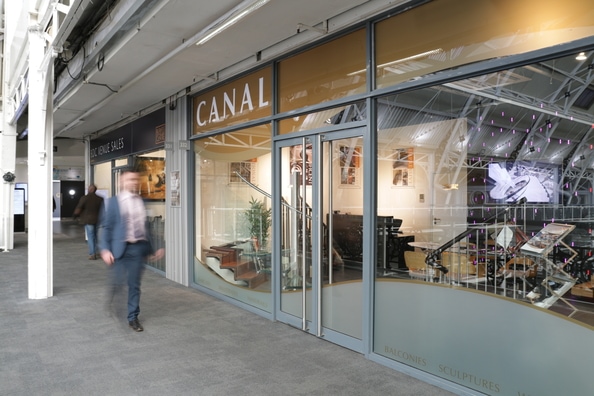 Our new series, In Conversation With…, gives us an opportunity to meet some of the community that call the BDC home to their business. With a diverse and eclectic mix of companies in the venue, across offices, showrooms and our co-working space, we are lucky to have some amazing and interesting people under our roof.
This month we are in conversation with Lee Cheesmur, Architectural Sales Manager from Canal Engineering. As a bespoke British metalwork manufacturer with over 90 years' experience the company has a heritage of design innovation and quality manufacturing. Their beautifully designed showroom has just launched at the BDC and overlooks the main exhibition space at the centre. Tell us a bit about your company and your role there…Canal Architectural is a leading British architectural metalwork manufacturer and specialises in designing, fabricating and installing an expansive range of architectural metalwork from bespoke staircases, balustrades to signage and metal sculptures. As Architectural Sales Manager at Canal Engineering, I work with a number of key clients including Architects, Interior Designers, Contractors and Specifiers to design and create innovative metalwork solutions for their project. I'm based at the Business Design Centre showroom from Tuesday-Thursday 9am-5pm and Friday 9am-2pm.How long have you been based here at the BDC?
We've been designing, fitting and installing our latest products at the Business Design Centre over the past few months and we officially launched the showroom on the 14th March (if anyone wishes to visit please get in touch for an appointment).
Why did your company choose the BDC as your home?
The aim of the showroom is to provide architects designers contractors homeowners and end users with an innovative and inspirational space to view products and discuss projects. The BDC is a hub of innovation and the centre blends perfectly with the cutting-edge bespoke metalwork designed and manufactured at Canal Architectural. Our manufacturing site is based in Nottingham and the showroom allows us to meet clients in the area to discuss new projects ideas.What is the best part about being based here and in this area?The BDC is located in Islington it's easily accessible and an ideal space to make client appointments and discuss project specifications.What has 2019 got in store and what's next for your business?Even with the economic uncertainty in the manufacturing and construction industry for the year ahead we are committed to providing the best quality architectural metalwork to our clients. We're continually investing in the latest manufacturing technology as well as expanding our product portfolio in line with the latest trends and finishes.Our showroom is unit number 332 and open from Tuesday-Thursday 9am-5pm and Friday 9am-2pm contact us to book an appointment; email canal@canalengineering.co.uk or call us on 0207 288 6112.
Head to their site if you would like to find out more about Canal Engineering and if you would like to meet our team and feature In Conversation With… then get in touch with Katie.