Have a minute? Read this blog! Have one hour? Volunteer with LVN...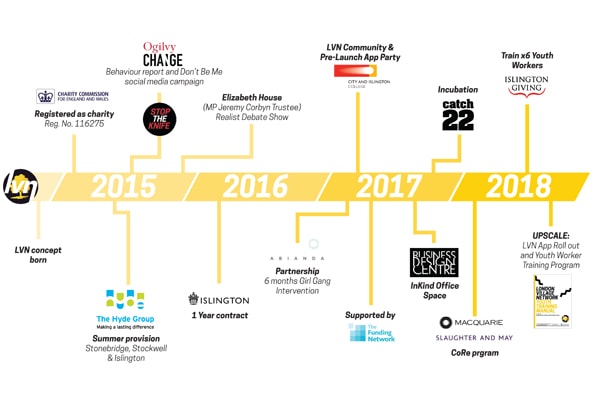 The brainchild of Islington's very own Rachael Box, London Village Network (LVN) has shaken up the local youth network in the last few years. The small grassroots charity with the big goals aims to bring the skills of the working professional community right to the doorstep of those who need it most. Since founded in 2015 the charity has already made waves in the local community and helped many young people find their career path.
The charity's app that was recently launched enables young people from deprived backgrounds to access the skills of volunteer adults in London. It can connect them with anyone from a wide range of professions including the creative and legal industries. The charity also calls on volunteers to give one hour of their time whether to give a talk or offer one to one support. Recently working from the Business Design Centre's (BDC) co-working space LVN have filmed their promotional advert for their app onsite with the young people taking a lead on producing it and everyone from the onsite catering team to the printers getting involved.
BDC tenant Revolution Personal Training Studios gave time in the form of a youth seminar at an after school club in Essex Road earlier this year. Longstanding Personal Trainer from the studios Ollie comments
"It's immensely rewarding to give those on the start of their career journey some advice and support. To explain what it's like to work as a personal trainer and for them to see that it's something they can achieve was great. I would recommend volunteering with London Village Network as the amount of knowledge you can pass on to those that need it whether big or small really is invaluable."
LVN is free for young people aged 16-24 to access and offers an informal and open-door environment to learn about skills and tips on a level beyond the school curriculum providing a wider access to knowledge which in turn will strengthen their communities. Founder Rachael explains
"The support from the local community has been astounding. We've received funding from Islington Giving which has allowed us to train six new youth workers who will implement our programme in the centres across the borough and being given key support from businesses such as the BDC has really made a difference on the ground. The changes we have seen in those involved has been incredible and it's really risen the hopes and aspirations of the young people to get that kind of help and guidance."
The London Village Network app is now available to download in the app store and with a tiny commitment of one hour to help a young person it couldn't be a better way to get involved with the local community. Whether you are looking for a way to encourage staff to participate in your CSR practices or if you are an individual trying to find the best way to help your community get in touch with LVN directly who can provide more information.
Posted by Kate