What to eat and where when visiting the Business Design Centre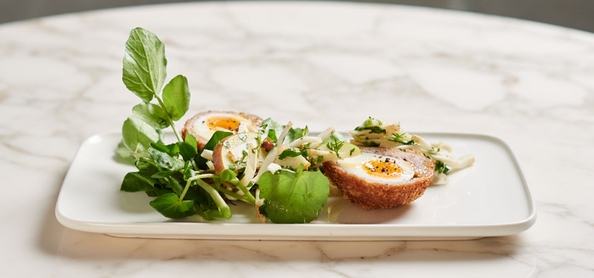 Attending a conference or event and looking to grab some lunch at the Business Design Centre in Islington? We've got you covered!
Here's our list of the best lunch spots in and around the BDC to help you decide what to eat and where.
1. Jack's Restaurant
If a menu that changes daily mouthwatering cakes and handmade pizzas aren't enough to entice you the location of Jack's Restaurant should do the trick! Conveniently situated inside the BDC this popular eatery on the top floor is ideal if you're looking for a quick bite that will leave your stomach full and your tastebuds satisfied.
With free Wi-fi and a comfortable spacious setting Jack's is also a great place for meetings and networking while you enjoy an illy coffee or quick snack.
2. Skinny Kitchen
Located immediately outside the entrance to the BDC the Skinny Kitchen serves up clean and healthy food and is the brainchild of husband and wife team Lois and Joel Belchem. Their passion for health and fitness is reflected in the diverse menu featuring healthy brunch options protein bowls and skinny burgers amongst other things.
There's something for everyone on the menu and even the desserts are designed with well-being in mind. Check out the protein pancakes with wild berry and matcha ice cream for a unique and delicious lunchtime treat!
3. Vivo
Need a bit of fresh air? Relax on the roof terrace at Vivo a modern Italian eatery a few steps from the BDC.
Sample delights from the deli counter or order a few small plates to share between your lunchtime party. Those with bigger lunchtime appetites can enjoy the Vivo burger or battered salted cod courgette and chips. And for a healthier option take a look at the new detox and vegan menus – bellissimo!
4. Oldroyd
If you love a good lunchtime deal Oldroyd on Upper Street offers a fabulous lunch menuMonday to Friday for £10! Think along the lines of braised lamb shoulder grilled mackerel or some midday mussels to re-energise you before you return to the BDC's exhibition hall.
The menu changes daily and Chefs use only the best seasonal British ingredients.
5. The Breakfast Club
Don't be fooled by the name The Breakfast Club serves delicious meals all day long. And it's only a few minutes' walk from the Business Design Centre. Opened in 2007 and the second oldest branch of the Breakfast Club family the lunch menu at this established eatery is guaranteed to leave your mouth watering.
If you've already enjoyed lunch at the Business Design Centre and fancy a decadent dessert The Breakfast Club will deliver with its salted caramel banoffee pancakes or classic fried chicken and waffles (who says you can't have chicken for dessert!?)
If you need more inspiration on lunch at the Business Design Centre take a look at our full list of restaurants bars and cafes in the local area. New to the BDC? Find out about this fantastic venue upcoming shows catering options and office space for rent by visiting the BDC website.