If you've been to see us recently hopefully you'll have noticed something different outside.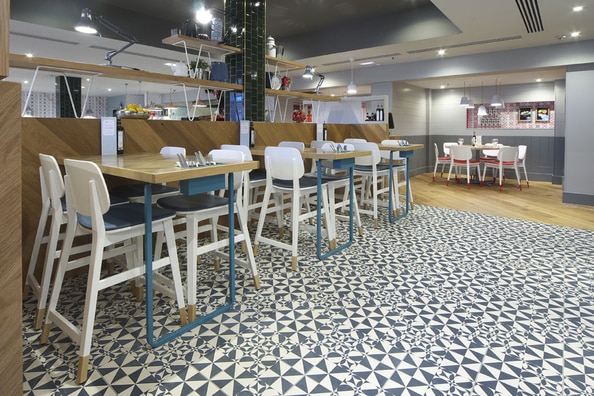 If you've been to see us recently hopefully you won't have failed to notice the transformation that has taken place in our outdoor area at the front of the venue.
Our longstanding onsite restaurant partner ASK have launched their Islington home into flagship status this month transforming the 185 cover space with the brands distinctive new look. The renovation marks the almost half-way point between the start and finish line of what is sure to be the biggest project the brand has seen.
ASK Italian Managing Director Steve Holmes says 'We're delighted to be reopening our Islington restaurant: particularly because it marks such a major milestone in the transformation of the ASK Italian brand. We believe our passion for Italian culture shows not only in the quality and provenance of our food but also in the design of restaurants – we hope our customers in Islington are as excited about the changes as we are'.
The new look restaurant open daily from 9am offers guests a choice of zones to dine in – from high stools and tables for those seeking a quick bite to eat to a relaxed dining room and open-plan kitchen area. For those warmer days we have been enjoying this week ASK also provides an ideal opportunity to make the most of one of the sunniest spots on Upper Street with a terrace area to soak up the rays over a Pinot and Pizza.
A commitment to refurbish the remainder of the 110 locations by the end of 2015 will be no mean feat and going by the look and feel of the Islington branch it's going to continue seeing ASK as one of the UK's leading casual dining restaurant chains.
For more information on ASK and other great places to eat and drink in the area have a look at our food and drink listings.
Posted by Kate.