Find out what happened when we asked our team what it's like to work at the BDC...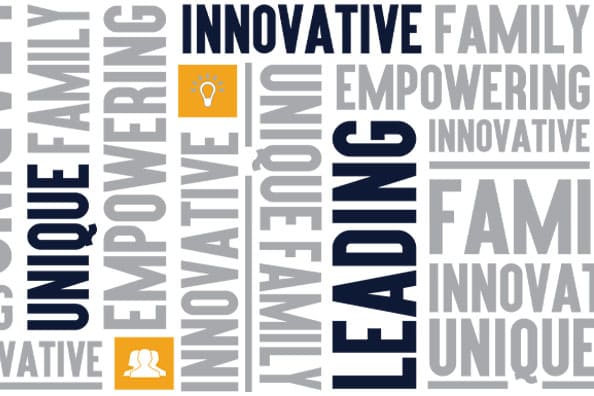 After being recognised as an Investor in People at a gold standard last year it prompted a response, of what really makes the BDC a great place to work? Industry friends often comment on the long retention of such a large percentage of our staff, with many enjoying longstanding partnerships with our event managers on their shows.
In order to really get to the bottom of what makes us who we are, we wanted to find out what it is that we value. Without a clear display of our beliefs anywhere in the venue, our staff were invited to put forward what they thought. Asking around thirty of our team how they would describe us produced an overwhelmingly similar response with five clear words that stood out;
Innovative *> Ÿ Leading *> Ÿ Unique *> Ÿ Family *> Ÿ Empowering*>
Such a resounding and positive message prompted us to look into what it was exactly that lay behind these values by asking the same respondents to illuminate their responses. Innovative lead the charge…
"Alongside being one of the most unique event venues in London the consistent expansion of the venue's showrooms including the recent development of the BDC Co-Working space remains to demonstrate innovation at the forefront of the business's values. *>
Our continuous CSR work with particular focus in the local community also highlights the determination as a venue to remain innovative utilising our business resources in providing charities with a platform to help them grow and develop their communities. It's clear to see from these examples that innovation lies at the heart of the Business Design Centre."
Working with charities in the local environment is something that most of us involve ourselves with and it provides a chance to connect with something bigger. The feel of the overall community within the teams has often been likened to that of a family and with the company still being majority family owned it's really felt throughout;
"More than just colleagues we support each other and come together to overcome challenges and celebrate achievements. While there are differing definitions of what a family constitutes the trust care and support for each other at the BDC mirrors that of a close knit family."
For those who have worked elsewhere or have had the chance to work their way through the company the empowerment and opportunity given to staff shone through as a key to motivation and job satisfaction.
"In a world where we all fear failure it is empowering to be given the chance to fail and that is why so many at the Business Design Centre succeed."
Growth is actively encouraged at the BDC and training in leadership and management features heavily. Over the last five years a middle management team has formed which has begun to push the boundaries and partake in shaping the future of the company.
"The BDC holds leadership at its core both in terms of facilities and ethos. The venue is renowned for being the first to become carbon neutral have industry leading Wi-Fi capabilities and an online ordering portal. The business is always pushing its offering boundaries to clients and visitors.
Inward looking the BDC promotes from within and this is why 80% of us have been at the venue for over 5 years. I am proud to be part of the middle management team who are seen as the next leaders of the business. All staff are encouraged to take responsibility so leading is instilled in the teams across all levels."
Maybe its reasons like these that make it a unique place of employment but for those who have joined the business see the company as a one without parallel. There are other fantastic employers out there but the BDC has something different.
"Business Design Centre is an incredibly unique venue considering its infrastructure and genuine care for all their guests and onsite tenants. The venue has heaps of history considering its 'Royal Agricultural Hall' past providing the space with character and infinite possibilities. Now the BDC continues to strive with uniqueness and represent this value through exclusive and contemporary events."
Working with all areas of the BDC team on this project has given an insight at all levels into something that was previously unwritten. It's provided a voice for the people of the company to say it how they see it and hope that that it answers those questioning 'what makes the BDC such a great place to work?'
""In a world where we all fear failure it is empowering to be given the chance to fail, and that is why so many at the Business Design Centre succeed.â€