This week we have collaborated with companies that we work with or provide a home to here at the Business Design Centre, who work within and alongside the tech sector. To celebrate London Tech Week we have a blog each day this week, featuring a member of our community and their view of the industry.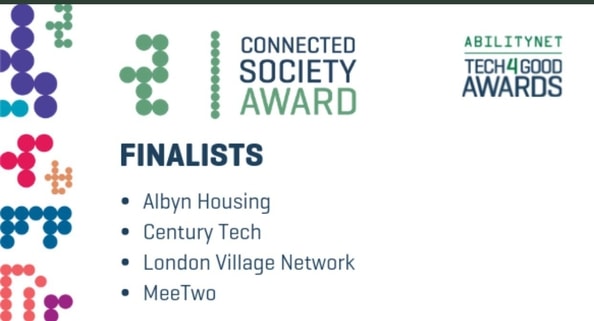 This week we have collaborated with companies that we work with or provide a home to here at the Business Design Centre who work within and alongside the tech sector. To celebrate London Tech Week we have a blog each day this week featuring a member of our community and their view of the industry. Last in the series this week we hear from London Village Network's inspiring founder Rachael Box…
"As someone who is a complete tech phobe I would never have imagined that I would be announcing that we are FINALISTS in the Abilitynet TECH4GOOD Awards 2019 nominated for the Connecting Society category sponsored by Samsung and yet here I am!! Yippee!!
I hope you will agree that this is a huge achievement for a small grassroots charity albeit with a big vision like London Village Network a.k.a LVN. I am particularly proud that we've been recognised in this category. It is LVN's impact in the community where we seek to bring about positive change in the lives of less privileged 16-24 year olds through adults giving just one hour of their time that gives me the greatest personal reward. *>
I set up LVN to tackle network poverty and social inclusion. Our theory of change concludes that young people are less likely to get involved in anti-social behaviour if they have access to better networks. Did you know that 50% of our poorest young people are in 1/5 of our poorest schools and that only 3 in 10 jobs are advertised?
LVN's charitable ask is for adults from all industries every walk of life to donate 1 hour of their time to engage with local youths in safe community settings to share their expertise skills and career insights. One hour might not seem much but collectively several hours can change a life.
After being inundated with adults wanting to give time and young people seeking support I needed a solution to help manage volunteers' time and match them with young people's interests. I turned to technology for help.
The answer was a digital solution and the LVN app was born. The app has helped maximise LVN's limited resources providing an efficient simple volunteer management and youth services signposting tool. It's a handheld 24:7 asset with the potential to offer all frontline youth workers; teachers; statutory service and community workers access to a pool of community volunteers willing to give time to inspire and support the young people in their care. Mindful of safeguarding & quality control considerations I also developed a user training programme to complement the app.
The app makes it super easy for young people to register for help and find out about the abundance of services available to them. It also offers LVN the technology with endless potential to improve our offer and monitor and measure our impact in really sophisticated ways.
I can now count myself as one of the 17% of women in tech. My own personal commitment to networking led me to join a brilliant all female collective "Women Driven Development" (WDD) that seeks to address gender imbalance in tech. I've met amazing female coders all willing to volunteer support for LVN. It was at an WDD event that I met Catherine Ruggles a Director of Engineering at Google who has now joined the LVN board. Catherine is spearheading the development of the LVN app creating new capabilities which include a monitoring function to underpin our research demonstrating that 10Xvolunteer interactions of 1 hour can change a life. Having the support of WDD has been transformative. I'd also like to give special thanks to our App developers at Borne Digital who have helped tirelessly to help design and create the tool
The LVN youth signposting service is free to use. Any organisation or business with opportunities for 16-24 year olds are invited to get in touch and they will receive a dedicated user login to list their offers. I receive daily requests from service providers to list on the app from the police DIVERT project to local Councils apprenticeships art collectives to other charities. It is testament to the app's value and acknowledgement that the way to engage with young people is through technology they control and use. I'm also pleased to announce a cross promotion partnership with violent crime prevention board
Finding funding for the app hasn't been easy but thankfully both the City Bridge Trust & John Lyon's Charity have seen the value in listing youth provisions on one easy to reach up to date platform – the LVN app. *>
As a TECH4GOOD finalist LVN is eligible to enter a crowdfunder. The group that generates the most pledges will not only keep all the funds it raises but also win the People's Award. I hope you will pledge support. Help bring LVN to victory and raise funds to enable us to reach more young people.
If you would prefer to give time and get more hands on we'd love to hear from you. Volunteers are the lifeblood of LVN so please consider giving an hour. Your time could be transformative. You know what to do – download the London Village Network app now and register your details."
About London Village Network*>LVN was founded in 2015 by Islington resident and single mum Rachael Box in response to rising knife crime and violence in London. Current Office of National Statistics figures show that fatal stabbings in England and Wales are at the highest level since records began in 1946.
Rachael identified a lack of positive role models and support networks as a serious barrier to economic mobility and a significant cause of anti-social behaviour amongst London's disadvantaged youth. To combat this LVN utilises the knowledge and experience of its 500+ volunteers to support disadvantaged young people aged 16-24 in London. Based in Islington LVN is expanding its programmes to eight additional boroughs across London. To facilitate delivery of LVN's agenda Rachael developed the LVN app which was launched in 2017
LVN is an Islington-based non-profit dedicated to social equality and inspiring young people through the 'power of an hour.' LVN invites adults from a broad range of industries and professions to give just one hour of their time to support young people.
About Women Driven Development (WDD)*>WDD was co-founded by Misa Ogura and Phoebe Greig both software engineers at the BBC. They founded WDD to tackle gender imbalance in tech and provide more opportunities for the under-represented. WDD organises Hackathons where teams work on real projects using technology to improve people's lives and provide female tech-leaders an organic way to connect with gender minorities in tech.
LVN was privileged to meet WDD members at a 3-day tech Hackathon (hosted by Expedia) where the focus was on the quality of the code the people and the journey and encouraging local enterprises to establish collaborative partnerships with volunteer coders.