We're delighted to introduce Onward Display, this month's featured tenant at the Business Design Centre.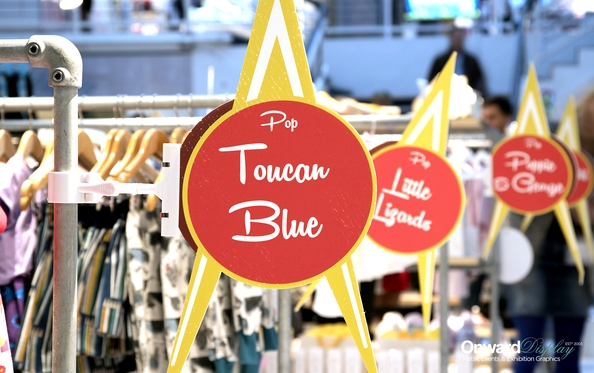 At the BDC, we offer a range of office spaces and showrooms for let. All are equipped with state of the art facilities and offer unrivalled access to visitors and exhibitors who attend our numerous shows and events throughout the year.
You can find a full list of our showroom tenants within our website directory.
About Onward Display
Established in 2003, Onward Display Ltd. are a creative large format printer, offering endless print options and solutions for retail, events & exhibition graphics. The company has a large showroom in central London, one of which is housed within the Business Design Centre in Islington.
What makes Onward Display unique is that they have no Sales Team and do not advertise. In fact, they rely completely on recommendation through the work they produce. This speaks volumes about the quality and popularity of their work!
All work undertaken is produced in-house with their own machines and every piece of design is produced to an outstanding standard and print quality.
Onward Display at the BDC
"The Business Design Centre is a place that we have been lucky enough to call home since 2010. Starting out small with our first office, unit 219 – it was a simple unmanned office, it was the perfect living advert to organisers and exhibitors to showcase our capabilities. Within 2 years we moved twice more before settling down in unit 154 – this became home to our first 3X2m flat-bed Océ Arizona printing machine.
We formed an amazing working relationship with the venue and were appointed to be the preferred signage and print partner to the Business Design Centre. This amazing opportunity quickly grew into a very successful partnership."
– Onward Display
Services Include:
Large Format Printing
Exhibition signage
Shell scheme printing
Wall vinyls
Window stickers
Direct to media
Banners
Dry mounting
Banner stands
Canvases
Die cut shapes
Life-size cut-outs
Hoarding graphics
Pop-up shop graphics
Installation services
For event organisers
Onward Display specialise in creating the perfect branding experience. Their specialist project managers will assist you from the initial point of contact, right on through to the opening of your event, and not to forget the aftercare … they will always turn around those last-minute extras.
Onward Display has their very own in-house design team to work with you every step of the way, from the first stage of project requirements, through to graphic concept visuals to help you visualise the event before production begins. The team is fully capable to help develop your tailored event branding from pre-existing ideas and guidelines, or even from scratch.
2 of their 3 branches solely focus on exhibition and conferences to allow them to provide the most comprehensive service possible. From consultation through to installation, Onward Display have got you covered!
If you're sponsoring an event
Onward Display can help you by creating an image of success and authority for your business in a smart way, to help you win more customers. They can also help you stand out amongst large audiences, and be noticeable above and beyond the other brands.
Whether you have a sponsored area, or have free roam within the event space, they can help you transform your vision into reality and bring your brand to life.
Need printing for a show at the Business Design Centre?
If you are hosting or sponsoring a show within The Business Design Centre, Onward Display is on hand to help with even the most pressing of print deadlines. Any last-minute extras can be turned around instantly, and with no waiting time or transport costs.
Get in touch with Onward Display at bdc@onwarddisplay.com.