Ever wondered what makes the Business Design Centre so special? It's the people who call it home.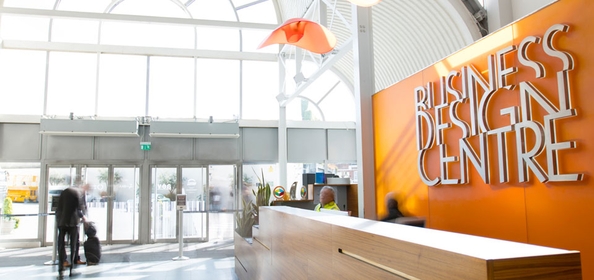 Ever wondered what makes the Business Design Centre so special? It's the people who call it home.
Taking a stroll round the beautiful Grade 2 listed building for the first time it's likely you will be struck by the sheer number of offices that surround its mezzanine and sit along its winding side corridors. These are our tenants and they are at the heart of the Business Design Centre community. Since 1986 thousands of businesses from a wide range of sectors have called the Business Design Centre home. To give you an insight into who our tenants are and what life is like at BDC we caught up with one of them for a chat!
In this edition we talk to Tony Rendell, Head of MBU Operations & Customer Service at Zehnder. A global industry leading manufacturer of decorative radiators, ventilation and clean air solutions they have many arms to their business and work towards delivering their promise of 'always the best climate'.
How long have you been at the Business Design Centre?
We officially greeted our first customers at the BDC in April 2018 having moved from a standalone premises 10 minutes down the road. Moving into the BDC was a smooth process, one which we are happy with to this day!
How many people are in your team?
Jackie Kilgallon is our showroom manager and is the only permanent employee based at the BDC, however we have colleagues from across the United Kingdom bringing customers and industry experts to the Business Design Centre. This is not only to view our products but also to attend educational sessions including CPD accredited seminars.
What kind of office space do you have at the Business Design Centre?
Our unit at the BDC is a showroom which is open to members of the public and trade customers. Showcasing the Bisque decorative radiator range Jackie is on hand to take visitors through each of our products on display to ensure the right radiator is selected for the right room in their home or office. Being part of the Zehnder Group we are also industry leaders in ventilation and clear air solutions, many of which can also be viewed and experienced first-hand in our showroom.
What is it like to work in Islington?
We love bringing customers to the Business Design Centre! The relaxed, informal yet professional environment provides the perfect setting to engage, network and demonstrate our heating and ventilation solutions. Plus, the variety of events held in the main exhibition area bring a great vibe – regardless of the event!
What are your stand out memories from your time at the BDC?
The BDC Christmas lunch is a stand out memory for our team – not only did it provide a great opportunity to meet and network with other businesses located within the BDC, it also showed how much the BDC cares about its clients with the effort the Directors made to serve us all Christmas lunch. All round a fantastic atmosphere enjoyed by all!
If you want to be part of our incredible community and you're interested in finding out about the office space available at the Business Design Centre, please get in touch on 020 7288 6011 or email terrys@bdc.london.