We've all been there - without the usual structure to your working day, it's so much easier at this time of year to forget to go outside for lunch, or work through it completely. However, lockdown also means it's never been more important to get outside for some fresh air, for both your body and your mind.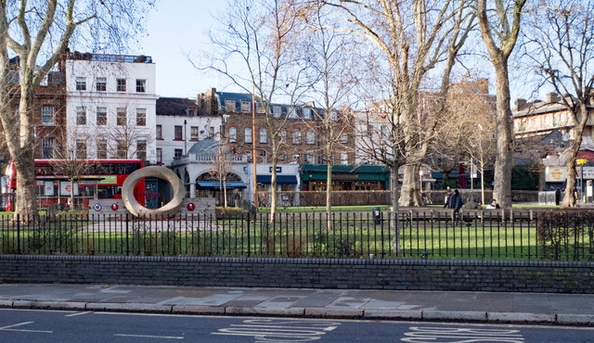 According to Islington Life, taking a side road instead of a main road can reduce your exposure to pollution by 20 per cent, which is especially important for those of us at risk, such as children, elderly people and those with existing health problems. Not only that, the borough of Islington has also set out plans to become a net zero carbon borough by 2030. For us to achieve that as a community we all need to be mindful of the pollution we produce and breathe in. That's why this month we've pulled together the best north London walks in and around Islington for you and your household.

As travelling has temporarily been taken away from us, it's fascinating to learn more about the history and culture of the local area that you thought you knew. That sentiment certainly rings true for north London walks. Every corner you turn, you are surrounded by the history of London, and the reasons why it has become one of the greatest cities in the world. The next time you visit the Business Design Centre, you may want to take one of the following scenic routes around the borough of Islington after the exhibition.
Farringdon Station
If you've come to visit us on Upper Street in Angel, and you want to potter further into the city, the 'Angel to Farringdon' walk takes around 25 minutes, and largely avoids the busy adjacent St John's Street and Farringdon Road main roads. This walk is dotted with historical London landmarks, including performance arts venue Sadler's Wells and Clerkenwell Green. Also on the walk, you can find Exmouth Market, where – once life goes back to normal – you can find boutique and well-known food companies, as well as jewellery and gifts from local London designers. Once you reach Farringdon station, you can marvel at the terminus of the world's first underground line, where the Metropolitan line linked Paddington and Farringdon.
St John's Gate, Clerkenwell
Likewise, if you carry on down St. John's Street, instead of turning off to Pentonville Road, you can head all the way to Smithfield Market, which should take around 40 minutes. On this route, you will pass beautiful architecture of London past, from 19th century housing on Hayward's Place, to the reconstructed 19th century St John's Gate, to the Mallory Buildings – which were the first tenement blocks to be built by the council in 1906.
If you fancied a different walk back to Angel from here, you can walk along Clerkenwell Road to Old Street, and pass St. Luke's Church, which was built in 1733 to honour all of the churches lost during the Great Fire of London in 1666. Then, on your way back up to Angel station, you can experience London architecture young and old as you pass through King Square and Brunswick Estate. The former was laid out in the 1820s in celebration of the new monarch King George IV. Built in 1962, the Brunswick Estate buildings were the tallest in London at the time.
St Luke's Church, Old Street
Of course, not everyone is able to leave their house and walk for 45 minutes. There are various alternatives measures that you can take at home which can help to combat any negative feelings that you are currently having. These can range from simple exercises such as sit-to-stand- moves from your armchair, to a more structured program like the Couch to Fitness program, which is designed for beginners, who can only exercise at home.
Get in touch with us today to share your favourite north London walks, and together we can work towards a zero net carbon future for Islington by 2030!