We catch up with Elena as she gives her thoughts so far in her year as Conference Coordinator here at the BDC...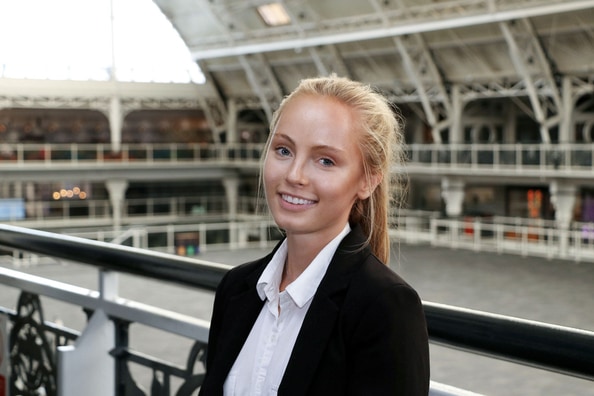 As we move into uncertain times with Covid-19 I have had a chance to reflect on what has been a fantastic year of opportunity for me personally. Having completed 2 years of my degree course at Sheffield Hallam University I had to adjust to a new lifestyle and routine in my placement year: the daily train commute from Hertford to London and varied shift pattern have been definite challenges. The experience has been diverse, challenging, exciting and invaluable in developing my event industry knowledge and enhancing my skill set.
The Business Design Centre (BDC) is made up of five departments, all of which I have had the absolute pleasure to work with. The special family environment and unique company culture have been a really important part of my experience. Being in an empowering and encouraging team where hard work is recognised and achievements are celebrated only serves to underline why the BDC is such a great place to work! Despite the commute, walking along busy Upper Street and arriving to positive, friendly and supportive colleagues – from the reception team to the security and catering staff, I immediately feel at home and ready for the day ahead.
Based in the Venue Sales office, my role involves project managing a wide variety of events from small meetings to large conferences, contributing to weekly Operations Meetings and marketing campaigns, updating @bdclondon BDC website and writing monthly upcoming event blogs. All this on top of dealing with a host of general enquiries and problem solving with customers. I never thought I would have learnt so much in such a short space of time. This year it has been great to be involved in the development of our video content on our social channels – an exciting way to show how the venue is transformed daily for different events.
Casting my mind back to when I first conducted research into the BDC in preparation for my interview its evident charitable work and strong affinity with the community especially stood out. I feel extremely fortunate to have contributed towards such initiatives. In September I was lucky enough learn about the Morris Charitable Trust (MCT) which focuses on donating to charitable causes for local community projects including promoting education community harmony and helping alleviate social hardship. I attended the opening of the Morris Family Garden which provides enjoyment for families within the local community. This was created following MCT's generous donation and their partnership with Sunnyside Community Garden Centre and Islington Council. It truly was fantastic to see such an inspiring project the work of the volunteers and will undoubtedly have a positive local impact.
It has been brilliant to be involved in other BDC charity events. In October all the team took part in the Windsor Twilight Walk and last week hosted the annual BDC Tenants Quiz to help raise money for The Brain Tumour Charity. In November the team and I also ran a session on events and event management at City and Islington College in collaboration with London Village Network to support disadvantaged people in Islington. Such experiences have only broadened my understanding of BDC's ongoing commitment to charitable causes and have given me happy memories with the BDC family.
Finally this year it was a privilege to project manage February's Islington Gratitude Dinner – an inspiring event acknowledging the good in our local community with special guests including the Mayoress of Islington.
Without doubt we now find ourselves in difficult and uncertain times. Yet my experience with BDC has taught me that by sticking together and with everyone playing their part we can and we will overcome whatever challenges are put before us.