We've been working with Business Design Centre to help them navigate their next steps to reaching net zero emissions. Read more about the work that we have been doing together from ecollective Founder, Charlie Cotton.

BDC have committed to reducing their environmental impact. This is fantastic, and it's what the planet needs us all to be doing, but it's by no means an easy feat. So here I'm going to explain just how they're going about it.
First off, I'd better introduce myself. I'm Charlie, founder of ecollective, we're a carbon consultancy who specialise in measuring the carbon emissions of businesses, and working with them to reduce it.
The Business Design Centre has an historic link to the environment. It was opened in 1862 as the Agricultural Hall to hold agricultural shows. Working with, rather than against, the environment has always been important for the BDC.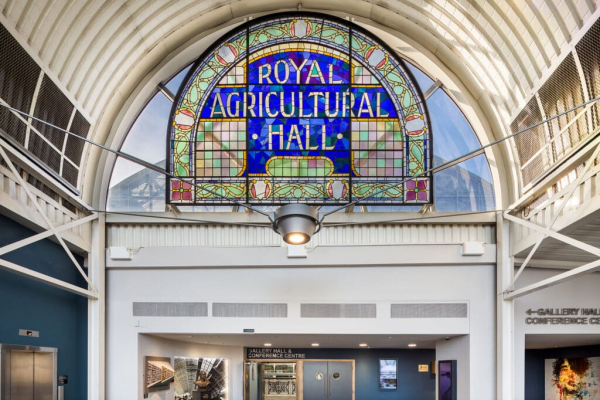 As one of the most iconic venues in London, they've hosted endless important events – circuses, balls, exhibitions, galas and conferences. They bring joy to so many people and should continue to do so in the future – but they have an impact on the environment. 
Therefore, it's necessary to work out how the BDC can host events with a minimal impact. For us, the best way to do this is, first, by measuring your carbon footprint. If there's one thing the planet needs – it's to reduce the amount of carbon in the atmosphere. 
Then, once we have the data, we can work out how to reduce carbon emissions. Rather wonderfully, the BDC is already doing just that.
We measured the carbon emissions of the entire business. This included (but was not limited to) the running of the iconic Grade II building itself, but also the operations, working from home, travel emissions of the team, and even the website.
Based on 2021/22 data, the average carbon footprint per square metre is 20.7kg CO2e.
In the future, if you like hosting events in cool spaces, BDC hopes to provide exact details on the carbon footprint for your event. Making it easier for you to find the best space available based on price, quality and its impact on the planet. 
This has already reduced a lot in the past 4 years (2018/19: 62.22kg, 2019/20: 42.15kg, 2020/21: 27.14kg). This is fantastic and is a result of the BDC team's concerted effort on this. 
So here's to the BDC team, who are taking ownership of their carbon footprint, taking simple steps to reduce it and sharing their work with events companies and visitors who come to the BDC. Their action will hopefully encourage others to do the same. 
If you would like to find out more about ecollective or to look at your own footprint head to ecollective.com or get in touch with by emailing info@ecollectivecarbon.com.