In support of World Mental Health Day we talked to our team to look at the way in which they take care of their wellness in the workplace and at home.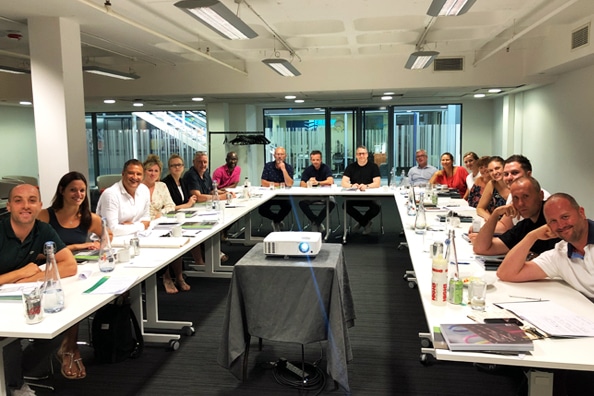 In support of World Mental Health Day we talked to our team to look at the way in which they take care of their wellness in the workplace and at home. We have come up with five top tips that they prioritise in their week to make sure that they are taking care of themselves and their mental health.
Fitting in Fitness
Whether it's a canal run lunchtime boxing class or post work yoga… BDC staff are making room for their routine whenever they can. Many of the company have recently been going to midday classes at the nearby boxing gym or heading to the onsite personal training studio Revolution PTS. With showers available inside the BDC it's never been easier to make time for getting those endorphins flowing. Property Manager Terry joins a group of staff at a lunchtime boxing class "Its great getting out for a lunch time session especially with other people from work. Everyone from the management to security teams come along and there's a great sense of camaraderie that comes from exercising together."
The Mental Health Foundation notes "Physical activity has a huge potential to enhance our wellbeing. Even a short burst of 10 minutes' brisk walking increases our mental alertness energy and positive mood." There are many great walks around the venue and along the local canal and many of the team enjoy a run. Security Supervisor Ed Muboro is our in house running expert and has started a lunchtime run club once a month he says "That sense of renewal and the amazing feeling of goodness you get after finishing a quality run is irreplaceable!"
Eat Well
We're lucky enough to have not one but two great restaurants on site that cater a variety of healthy options. Eating a good breakfast is key to balancing blood sugar levels which in turn boosts productivity creativity and reduces stress levels. General Manager Liam explains "It's important to have a nutrient dense diet starting off first thing with a good breakfast. Once your body has been kickstarted with a meal of protein and good fats the brains function is ready for the day and can better handle what is thrown at it."
The charity Mind say "If your blood sugar drops you might feel tired irritable and depressed. Eating regularly and choosing foods that release energy slowly will help to keep your sugar levels steady. Slow-release energy foods include: pasta rice oats wholegrain bread and cereals nuts and seeds."
Meditate
You may think that meditating is reserved for those that wish to sit cross legged in a studio but this couldn't be further from the truth. Many of the BDC team have a regular meditation practice including CEO Dominic Jones "Prioritising mental health is equally as important as physical health and its really easy to introduce moments of mindfulness throughout the week. Apps such as Headspace or Calm give you a meditation practitioner at your fingertips meaning you can find time wherever you are."
Running a mental health awareness week back in May here at the BDC we realised how many people were keen to develop their practice and so are arranging for all staff to have access to such an app free of charge. HR Manager Sherry has been looking into this "We identified that many staff enjoy this outlet so are keen to incorporate this as one of the benefits meaning anyone can have access to an app for meditation. We are currently looking into which is the best option and then this will be rolled out to all members of the team."
Regular Breaks
Getting up from your desk throughout the working day or having moments where you disengage briefly from your work allows the brain to relax. Psychology Today notes "Working for long stretches without breaks leads to stress and exhaustion. Taking breaks refreshes the mind replenishes your mental resources and helps you become more creative."
One of our tips in the venue is to take a lap. You can get up from your desk and walk the perimeter of the gallery level giving you some steps in your day and resting your eyes from the computer's glare. The recommended amount is around 5 – 10 minutes away from screen time each hour. Maybe a good chance to walk and talk or to schedule your meetings to break up your day!
Sleep
Not getting enough sleep can have a dramatic effect on our psychological state and mental health and it's likely that people who are living with mental health issues are more susceptible to suffering with insomnia or other sleep disorders.
The Sleep Council's general guidance says "The average sleep an adult requires or might expect to sleep is around eight hours a night. However there is no 'normal' length of time it is whatever is natural for you. We all feel tired at times but it is important that it is not disruptive to your daily life and general health."
It's important that we wind down to sleep at night removing blue light or devices in the few hours prior to sleep making sure that the last food we consume is a few hours before that. The events industry doesn't always allow for a regular sleep pattern with either the set up or the event itself running into the evenings. Charlotte is the Conference Manager here at the BDC and frequently works different hours each day "It can be hard to develop a good sleep routine when you get home and wake up at different times each day. What I find helps is making sure that I have a tidy and comfortable environment to go back to whether it be at home or working away. Not drinking caffeine too late in the afternoon is an absolute must!"
The team that took part in contributing to this article were a few of the 18 members of staff (pictured) that undertook a two day course to become Mental Health First Aiders earlier this year. We hope that if anyone wants support or to find out how they can help someone they know then they will feel comfortable to find one of the staff as there are always several of us on site.
World Mental Health Day 2019 is being observed on Thursday 10th October in order to raise awareness of mental health issues around the globe and increase efforts in support of mental health. It offers an opportunity for anyone to talk about mental health and address what more can be done to make mental health care a possibility for everyone around the World. This year the key issue being addressed is suicide prevention and you can find out more on the World Health Organisation's website.
For more information about the BDC's initiative you can get in touch with us but if you do need urgent help we recommend that you contact your GP or your local A&E. Take further advice from the Mental Health Foundation's website which provides ways to contact one of the many great charities offering support.
Posted by Kate