For whatever reason you're coming to the venue, here are some top tips to make the most of your visit...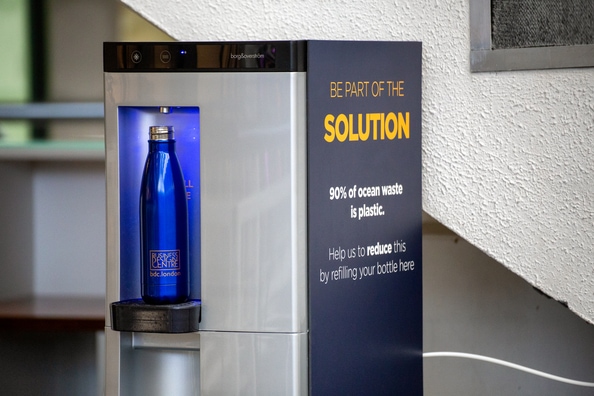 Coming to the BDC soon? Maybe you're exhibiting, maybe you're visiting an event or office that's based here… well for whatever reason you're coming to the venue, here are some top tips to make the most of your visit.
GETTING HERE
There's detailed information about getting to the BDC on our visiting us page but we are conveniently located in a really accessible Borough of London. You may find the tube or train easy but double check local bus routes as there's plenty to see above ground and you might even spot an ideal lunchtime hangout for later in the day. There are hundreds of bars restaurants and cafés in Islington – you'll be spoilt for choice.
WHAT TO BRING?
The best thing that you can bring is a refillable water bottle!! There are chilled filtered water stations around the venue that you can fill your bottle up at for free. Look out for the signs both in the Conference Centre and around the Mezzanine and Gallery Level.
If you like tea and coffee don't forget your reusable cup! You will get 30p off your tea or coffee when you purchase it from the onsite restaurant Jack's.
ARRIVING AT THE VENUE
Here for an event? On arrival you'll be directed to one of the receptions dedicated to the specific show you are attending. Just let one of the security team know the name of the event and you can check in.
Here to for a meeting with a showroom or office space? Then you'll need to check in at reception on the left hand side of the foyer and a member of the BDC team will sign you in and alert the person you are meeting of your arrival!
Please be aware that bag searching will be taking place at the venue.
EXHIBITING?
Make sure you place any stand orders before you arrive ideally at least two weeks prior to the show. Check on a show by show basis to see what your stand has on it where you need power and lighting this is usually done via the BDC's Online Ordering System.
If possible use a logistics company to send your items ahead to arrive on the stand before your arrival – less for you to carry on the day too!! Check with your organiser to see if they're already contracting a company or get in touch with the team at WES.
When it comes to your stand itself make sure it's reusable. None of the waste generated at the BDC goes to landfill and it's important that exhibitors take their stands home with them so you may as well ensure its reusable and for the end of its life – recyclable too!! Our in house stand graphic company Onward Display can help with this and have some great non-toxic recyclable materials that you can choose!
Bring less and follow up better! Do you really need all those leaflets? Try leaving them at home and plan a follow up strategy for all those key clients you meet at the show.
DOUBLE CHECK THE BINS
When throwing away items in bins around the venue make sure you double check where it's going. We have increased the signage on the bins around the venue in order for you to help us separate this better avoiding contamination but if you can't find the right bins one of the team will be able to help.
ACCESSIBILITY
The venue is fully DDA compliant and all accessible toilet factilities are fitted with Radar keys but for more information on this you can head to the accessibility section on our website.
FINALLY…
Our concierge team at the front desk are always available to help with any queries. From restaurant recommendations to arranging taxis you just need to head to the front of the building to get assistance. You can contact the desk 24 hours a day on 0207 288 6475.
We hope that this helps ahead of your visit and make sure you connect with us over on our social channels (at the top of this page) to share your visit with us.
See you onsite soon!
Posted by Kate
Image:©theotzia.co.uk