A unique office space at the BDC could help you grow your business as well as provide a permanent home for it. Contact us today.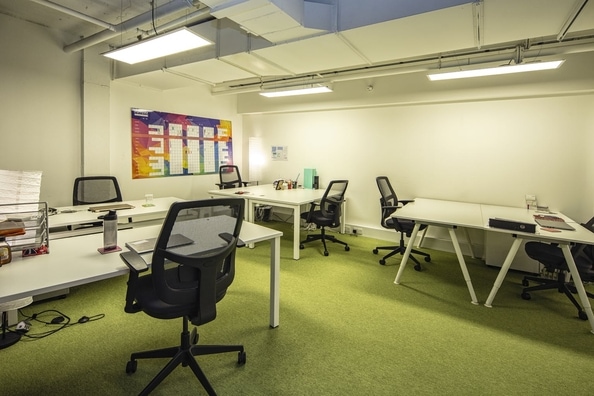 A unique office space at the BDC could help you grow your business as well as provide a permanent home for it.*>
How you ask? Well an office space at the BDC includes a free invite to our networking events and inside exposure to many of our fantastic industry shows that take place within the building each year. Plus your office will be located in the heart of vibrant Islington home to businesses shops restaurants and anywhere else potential clients might abound!*>
The Business Design Centre is home to over 250 events each year. Ranging from heavyweight boxing weigh-ins to fly-fishing exhibitions the venue attracts nearly one million visitors through its doors. When you choose to rent a unique office space at the BDC you can select from an array of options for the size and location of your office. Some lead directly to the exhibition floor whilst others provide fantastic views looking out over bustling Upper Street.*>
If you're looking to attract new clients and grow your business there are plenty of opportunities to meet neighbours within the building. Be it at our Christmas meal where tenants are served a delicious feast by BDC Directors or by simply walking in and having a chat with a neighbour there are plentiful opportunities to grow your network. *>
Tell Me More About A Unique Office Space At The BDC…*>
There are a number of office spaces available at the BDC ranging from 100 sq.ft all the way up to 12000sq.ft. They're all equipped with modern facilities and include access to shower facilities on-site parking private meeting rooms and 24 hour security.*>
Three of our favourite offices currently available at the BDC include:*>
Unit 217*>– This spcacious 876 sqft office provides a perfect environment to grow your business. The space comes complete with its own small meeting area as well as a kitchenette area to prepare your breakfast feast!
Showroom 201*>– A newly refurbished stunning 1700sqft space on the Mezzanine level that offers direct access to the exhibition floor. This spacious unit is ideal for a top of the range product display showroom.
Serviced Office 119C – Ideal for a small company or start up this practical 250sqft office offers a perfect low maintenance office space for you to call home.
What About Meeting Rooms?*>
You'll have access to those too! If you're looking for a more laid back casual meeting spot you can grab a table and a coffee at Jack's Restaurant. This bustling bistro is located on the mezzanine level and is a popular spot for networking sessions client meetings and working lunches. As a BDC Tenant you'll also receive a 20% discount on all food and drink!*>
If you need a more formal meeting spot you can choose from fully equipped meeting rooms and conference spaces to hire alongside your unique office space at the BDC. *>
What Else Do I Need To Know?*>
A unique office space at the BDC is completely accessible and the building is proud to be a fully DDA compliant venue. If you or your guests have any specific needs when it comes to accessibility the BDC team will always be on hand to assist and answer any questions you have.*>
Your new office space in Islington*>will be located on Upper Street in Angel a short walk from Angel Tube Station and just one stop on the tube from King's Cross. It's also just a 10-15 minute walk from Highbury & Islington train station that features the Victoria Line Overground and National Rail Services.*>
If you'd like to find out more about the unique office space available at the BDC get in touch to learn more and see it for yourself! If you have any questions you can call us on 020 7288 6011.*>