Welcome to Angel, the cuisine capital of the Capital...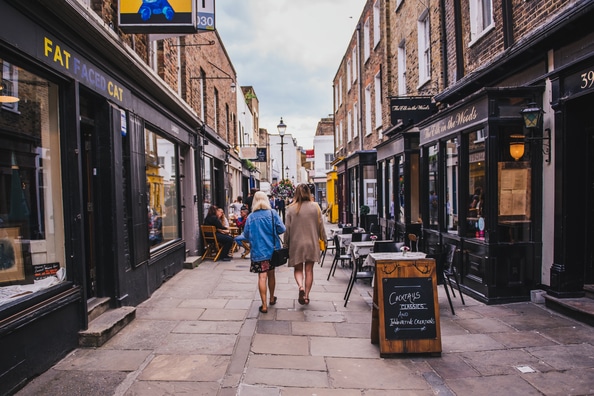 London and Partners latest Culture Campaign celebrates the greatest places London has to offer and we're lucky enough that our north-centrally located borough of Islington is one of those. Situated round the corner from Kings Cross, Angel has been home to the BDC for over 30 years and the historical building the Royal Agricultural Hall, for much much longer. Our regular visitors will know that Upper Street is adorned with more bars and restaurants than you can visit during our longest event and the restaurants have to be one of the best attributes of our unique location. Angel holds every cuisine imaginable ranging from places for a quick bite to eat in your lunch break to trying the latest high end three course menu with friends after work. We have local institutions such as Frederick's as well as the mouthwatering smaller boutique places like Rosa's and Vivo. The local area attracts thousands of visitors and locals each day looking for the latest treats to satisfy their cravings so we thought why not give you our insider tips on a few of the best local recommendations that you might not stumble on from the high street…If you are looking for somewhere off the beaten track for a truly tasty burger then we definitely have the place for you! MEATliquor N1 which originally started out in Peckham back in 2010 has transformed into a place you can hideaway from the main road and have your fill of the best burgers and beers. MEAT and liquor as the name suggests are totally their thing and offer everything from juicy burgers to scrumptious vegan hot dogs and all that which falls in between. Let's not forget the variety of classic cocktails and craft beers to wash all this down with! Located bang in the middle of Angel and Highbury and Islington MEATliquor is definitely at the top of our list when it comes to time to eat. We couldn't tell you about our fabulous local restaurants and not mention the hidden gems that are yet to be discovered by many Angel visitors. Located directly across from the venue Camden Passage is home to both Elk in the Woods and Kipferl. From brunch to dinner Elk in the Woods is the perfect place to catch up with your friends and family at any time over a tasty meal – they have an outstanding menu which will definitely have you going back just make sure to book. With scrumptious options such as vanilla pancakes with smoked bacon to slow roasted pork belly with chicory your taste buds will definitely be happy.
Also a great option down the quiet offshoot from the main road is Kipferl – a personal favourite of the BDC's. This Austrian coffeehouse and kitchen offers a variety of breakfast options including Austria's most traditional items such as 'Bauernfruehstueck' which is a classic stir fry of potatoes onions bacon and egg to you and me! Don't forget they are also open in the evening for those winter warmers that we all love such as Beef Stroganoff and delicious Dumplings.If you are visiting the venue soon then don't forget you can also pay a visit to our local…Jack's! With fresh meals prepared and served daily including our latest addition of homemade pizzas visitors to the BDC will not go without. Keep an eye on the Jack's menu which changes daily. You can also find out more information on the above local restaurants and many more on our local services page.Make sure you follow us on Twitter and Instagram to keep up with the latest additions to the local area and you can follow our local suggestions with #BDCRecommends.
Posted by Charlotte.